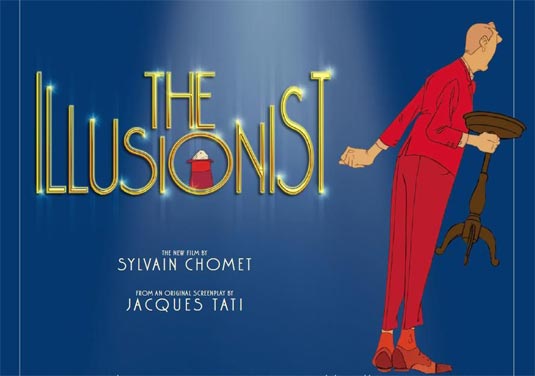 The Illusionist is one of a dying breed of stage entertainers. With emerging rock stars stealing his thunder in the late 1950s, he is forced to accept increasingly obscure assignments in fringe theatres, at garden parties and in bars and cafés. However, whilst performing in a village pub off the west coast of Scotland, he encounters Alice, an innocent young girl, who will change his life forever.
'The Illusionist' is a love letter from a father to his daughter. For Sophie Tatischeff, the daughter of Jacques Tati, comedy genius and French cinema legend, this touching correspondence could not be left undelivered. Catalogued in the CNC (Centre National de la Cinématographie) archives under the impersonal moniker 'Film Tati Nº 4', this un-produced script has waited half a century for hands to flick through its pages and realize its potential. Those eager hands belonged to Sylvain Chomet, the Oscar nominated and critically acclaimed creator of 'Belleville Rendezvous', who enthusiastically rose to the challenge to fulfil an impossible dream - to once again bring the magic of the incomparable Jacques Tati to life.
The release of 'The Illusionist' on DVD is due for the 14th of February. I've pre-ordered my copy and can't wait to watch this film again. Also if you haven't already seen them I recommend you watch some, if not all, of the Jacques Tati films. They're great especially 'Mon Oncle'.