Even from a young age Phillip Bradley Bird seemed destined to become a legend in the world of animation. On a tour of the Walt Disney Studios at age eleven, he announced that someday he would become part of its animation team, and soon afterward began work on his own 15-minute animated short. Within two years, Bird had completed his animation, which impressed the cartoon company. By age 14, barely in high school, Bird was mentored by the animator Milt Kahl, one of Disney's legendary Nine Old Men. Bird recalls Kahls criticisms as ideal "Kahl would point out shortcomings by gently delivering thoughts on where I could improve." After graduating from Corvallis High School in Corvallis, Oregon in 1975, Bird took a three-year break. He was then awarded a scholarship by Disney to attend California Institute of the Arts, where he met and befriended another future animator, Pixar co-founder and director John Lasseter. True to his word as an eleven year old boy upon graduating he joined Disneys animation department and started working on 'The Fox And The Hound'.
Brad Bird has since had a long career across varied animation disciplines. Starting out as an animator for Disney he has since also worked as a character designer, layout artist, voice actor, consultant, producer, writer and director, quite the Renaissance man.
Below is an overview of the animated works Brad has been involved with. He seems more recently to be focusing his talent towards live action movies. He's directing the new 'Mission Impossible' film and also trying to get his '1906' feature back on track, which he started in 2007 before being side-tracked by 'Ratatouille'.
I don't think Brad played a major role in the production of 'Toy Story 3', he was however listed in the credits as part of the 'Senior Creative Pixar Team'.
Slimily to 'Toy Story 3', I don't think Brads role was a major one, again he was listed in the credits as part of the 'Senior Creative Pixar Team'. I think this role entails acting as a consultant to the writing and directorial teams.
Brad was starting work on his first live action feature '1906' when he was called upon by Disney and Pixar to replace 'Ratatouilles' original director Jan Pinkava. Jan came up with the original concept and directed the film from 2001, creating the original designs, sets, characters and storyline. Lacking confidence in Pinkavas storyline development Pixar replaced him with Brad Bird in 2005. Brad rewrote the storyline, with a change in emphasis, he killed off some characters and expanded on the roles of others, he also slightly altered the appearance of the rat characters to give them a less anthropometric look. 'Ratatouille' was nominated for 5 Oscars winning the Best Animated Feature category.
The Incredibles (2004)
'The Incredibles' was initially developed by Brad Bird as a hand drawn feature for Warner Brothers, whom he'd been working with for the Iron Giant. When Warner Bros. closed their facility for making animated features Brad took the story with him to pitch to Disney and Pixar. This was Brads first outing with Pixar and the first time he had been reunited with fellow class mate John Lasseter since graduating from the California Institute Of The Arts in 1980. 'The Incredibles' posed several problems for the Pixar crew, as Brad had developed the film with a hand-drawn animation style in mind without knowing the limitations of a CGI produced feature. Many elements included in the script were difficult to animate with CGI at the time, most notably creating an all human cast, which required the development of new technologies specifically designed to animated detailed human anatomy. It posed so many problems Disney wanted to scrap the animated project in favour of a live action version, fortunately John Lasseter fought for the animated feature to continue production.
The film won many awards including 2 Oscars (including Best Animated Feature), the 2004 Annie award for Best Animated Feature and a 2005 Hugo Award.
'The Iron Giant' is an animated science fiction film based on Ted Hughes' 1968 novel 'The Iron Man'. Anybody who knows both the book and the film will know that they are nothing alike, the script for 'The Iron Giant' was however read and approved by Ted Hughes before his death in 1998. Such a shame he didn't live to see the finished result as it's a brilliant film.
The story of how the film developed is a long one, which I'll try to explain it briefly here. It started with Pete Townshend writing and releasing a rock musical album called 'The Iron Man: The Musical' in 1989. In the same year a short live action and stop frame animated video was made to accompany a single release. This video resulted in a live stage adaptation in 1993. Pete Townshend realised the story would translate well to the screen and the project was picked up by Warner Bros. Development for the film started in 1994, although it didn't really take off until Brad Bird took control as the director (his first time in the role for a feature film). Initially against his wishes Bird hired Tim McCanlies as an additional script writer. This new script was the version read and approved of by Ted Hughes. One of the other most critical changes Brad Bird made was to rescore the music, and not use the music from Pete Townshends musical. With the script rewrite and the change of score, the film had become completely detached from its origins.
The film wasn't a huge hit on release, if fact its massive loss at the box office was the death knoll for Warner Bros. in house animation department. In retrospect it's an utterly brilliant film, one of my favourite animated feature films, it's a shame it wasn't better received by the public upon its release.
'The Critic'
was an American prime time animated series revolving around the life of film critic Jay Sherman, voiced by actor Jon Lovitz. It was created by Al Jean and Mike Reiss, both of whom had worked as writers on 'The Simpsons'. 'The Critic' had 23 episodes produced, first broadcast on ABC in 1994, finishing its original run on FOX in 1995. Brad Birds role was simply to be an executive consultant for the character designers and layout artists.
'Family Dog' was a spin-off from a short created by Brad Bird for the 'Amazing Stories' TV series. Although credited as the series creator Brad Bird had refused to take part in the development of this spin-off series. It lasted 5 episodes before being pulled by CBS after being panned by critics for its poor scripts and cheap production values.
The Simpsons (1989 – 1998)
Brad Bird worked as a story board artist, character designer, layout designer, executive consultant and even directed 2 episodes in his time working on 'The Simpsons'. He started working for 'The Simpsons' right from the first episode and left at the end of seasons eight, in my opinion season three and four still contains some the best episodes they've created to date. In this time Brad Bird also storyboarded and directed the music video for 'Do The Bartman'.
Amazing Stories (1985 – 1987)
Brad Bird wrote two shorts for the 'Amazing Stories' TV series. One was a live action piece called 'The Main Attraction', the second was an animated short witch Bird also directed. The animated short was called 'Family Dog' there would later be a spin-off series based on this short.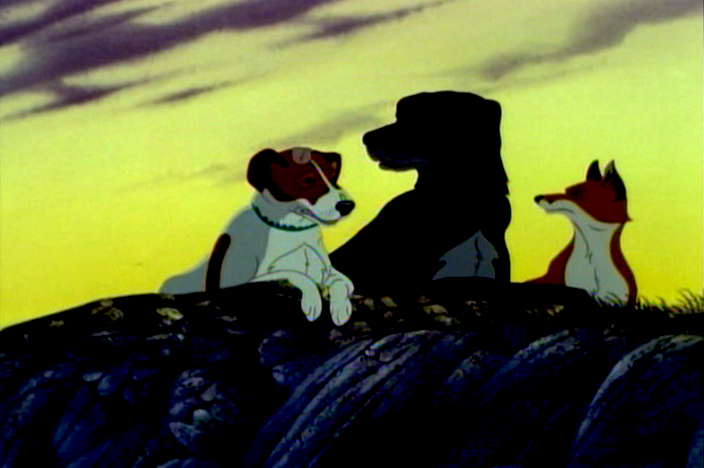 An animated adaptation of Richard Adams' novel, directed by Martin Rosen. The film is about a pair of dogs who escape from a research laboratory and try to survive in the wild with the help of a cunning fox. The lab director tries to keep the escape quiet, but as an increasing number of sheep are found killed, word leaks out, together with rumours that the dogs might be plague carriers...Brad Bird worked as an animator on this feature, not as good as 'Watership Down' also directed by Rosen, but still pretty good.
The Fox And The Hound (1981)
A young fox named Tod is taken in by an old woman after his mother is killed by a hunter. Full of mischief, Young Tod befriends Copper, a hound dog pup. As they grow up, however, their friendship becomes endangered by what they have become; Copper is a hunting dog, and Tod is his prey. Although not credited at the time Disney has since acknowledged Brids contribution in the animation department to the feature.
Brad Bird cut his teeth working in the animation department for this television series.